Every year on St Patrick's Day I make a
green
dinner for my family. I always have fun putting together an all green and white table, dinner and dessert. Starting last year I surprised the kids with some fun green treats at breakfast. I loved searching for fun, cheap, green things that would excite them. The older kids got green frisbees, candy, gum, pop and bubbles. The baby got green baby food and a new green sippy cup!
I loved how surprised they were and I want to do it again but I've had a hard time finding different green items this year. I've searched the internet, Pinterest and my favorite blogs for some great inspiration. I thought I would share some of my favorite ideas for treats, gifts and free printables.
You can get this free "Kiss me I'm Irish" printable tag at
Brown Paper Packages
. This might make a fun hubby gift too. Maybe the start of a green themed date? Love how
Kierste
inked the edge of the tag and backed it with such cute cardstock.
This is the St Patrick's subway art I choose to put up in my home this year. I love the sentiments and fonts! Go to
It Works for Bobbi!
and become a follower and you can download it for free.
it is what it is
has an adorable idea for rainbow themed St. Patrick's Day treats. (This is what I am doing for my kiddos!) Check out
it is what it is
for the free printable topper!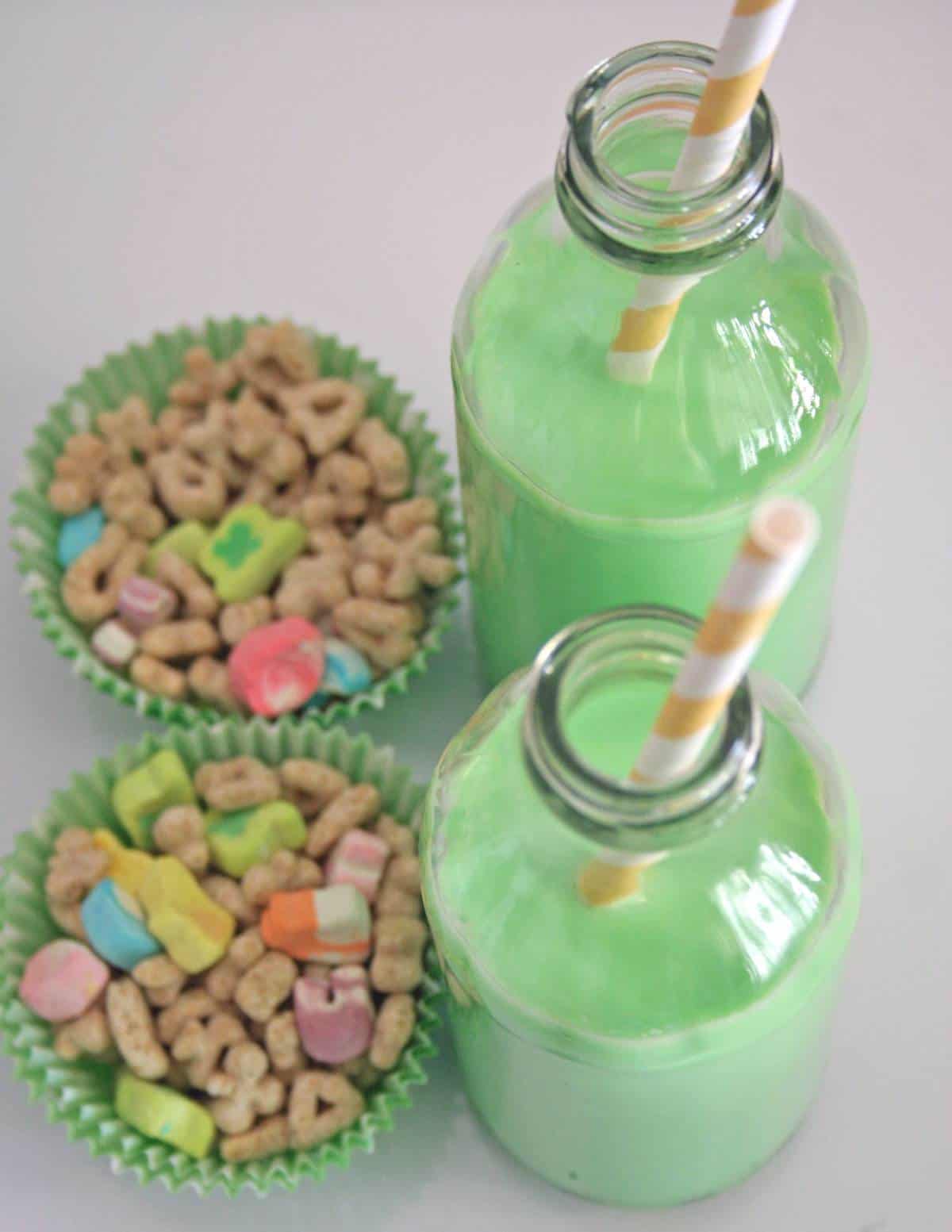 I adore this St. Patrick's Day breakfast idea because it's super simple and super cute. I am planning on incorporating this with the previous idea (rainbow theme for breakfast)! Check out
thoughtfully simple
for additional pictures and a free printable.
One of my newest favorite blogs
The Dating Divas
has a great idea for telling your spouse or kids how lucky you are to have them in your life. Such a thoughtful gift! Free printables available at
The Dating Diva's
.
I love mint and chocolate and I'm having a serious craving for this
Sugar Free Shamrock Shake from A Night Owl.
I'm always on the lookout for sugar free treats since we have family members who are diabetic! Don't forget the green stripey straw-simply adorable!
Fit Stylish Crafty and Happy
has a super healthy, super easy, super yummy green fruit kabob. I have made a green fruit salad before but I think these green fruit kabobs may show up at our St. Patrick's Day Dinner!
While on the topic of fruit, don't you love this rainbow of fruit with banana and marshmallow clouds. I was thinking I might use my favorite fruit dip for clouds. Either way, totally yummy and nutritious! Check out more kids party ideas at
Gluesticks, Gluesticks
.
See Vanessa Craft
gave me an idea that I want to do for the ladies I visit every month. You see, I'm kinda famous for my chocolate dipped Oreos (not really, but let's pretend). I love this printable tag and the chocolate dipped Oreos that go along with it.
Hope these awesome bloggers inspire you too! Check them out and
Luck O' The Irish To Ya
!